Surprise! Mr. Fedex delivered my new Chromecast today and I couldn't wait to unbox it and have a look.
First, the packaging is not made of quality material. It feels very cheap and the actual box is made of some recycled material that came apart once I removed the label. This doesn't concern me much as I am not paying for the box. If the previous generation Chromecast is of any indication, this one should more than live up to the hype.
The actual device looks much different than previous generation. Google has gone away from the USB dongle form factor. The new Chromecast almost resembles a small hockey puck or a headphone. If you extend out the HDMI extension, it can almost pass as an Christmas ornament. If you have the need to remove or move the Chromecast, the HDMI extension attaches to the body through a magnet and it quite firm.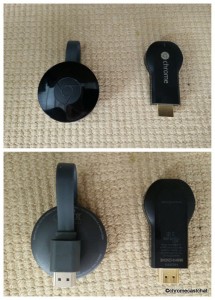 On the rear of the new Chromecast, it has these inscriptions: Model NC2-6A5 | FCC ID: A4RNC2-6A5 | IC: 10395A-NC26A5 | CAN ICES-3 B/NMB-3 B | Made In China
Then at the bottom: Designed by Google | 1600 Amphitheater Parkway, Mountain View, CA 94043.
It also has other symbols indicating HDMI, do not dispose and others such as serial number.
I did have a bit of an issue setting it up but this is likely due to my WiFi and not due to the device.
I'll shortly update this post with an unboxing video as well as an install guide.