Your Chromecast may have poor video quality when casting a Chrome tab to your TV. This is usually due to two things which can cause freezing, stuttering, or pixelating on your TV. Here are some things you can try to fix poor video quality on your Chromecast.
Computer performance causing video issues with Chromecast:
Check the power settings on your computer which you are casting the tab from Chrome. Check to make sure your computer does not go to sleep or go into power saving mode which is set by default on most laptops. Close down any unused applications, programs, or windows. Temporarily reduce it from the default high definition 720p to 480p through the Options Menu on the Cast icon.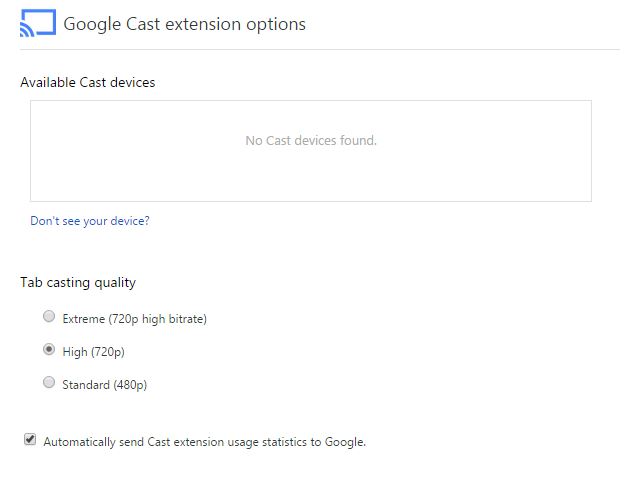 Network Issue causing poor video quality Chromecast:

The performance of Chromecast highly depends on your WiFi connection. Your WiFi connection in turn depends on the speed of your Internet. In my experience, you should have at least 3mb Internet speed and faster. WiFi routers varies but your TV and Chromecast should not have too many walls in between. For example, if you have your WiFi router located one end of the room, you will likely experience issues trying to connect it to a Chromecast at the opposite side of your house or basement. You can try to move your router or purchase an extender or repeater to extend the range of your WiFi network. You can also try to use the HDMI extender to distance the Chromecast device from your TV. If you are casting a tab from a PC / Laptop, make sure it has good strength indicating on the WiFi connection. You can also check if the WiFi channel is overlapping with another device through WiFi manager apps available on Play Store and App Store. If you have multiple users streaming through Youtube or other services, it may hamper the performance.
How to factory reset a Chromecast:
If you tried all of the above and still have video quality issues regardless of casting from a tab or casting from an app, as a last resort, you can try to do a reset on your Chromecast to see if clearing the cache will resolve your issue. In order to reset, you can do it two ways.