(Disclosure, I may receive a small referral fee when you make a purchase through links on this post.)
Google has expanded devices which support screen mirroring to your Chromecast device. This will allow you to screen any app from your Android device to the TV. In addition to all Nexus devices, Samsung Galaxy, and now Sony Xperia Z3, Z2, and Z2 tablet.
However, this will not send any audio so it will be limitedto visuals only. Give it a try, it is pretty neat.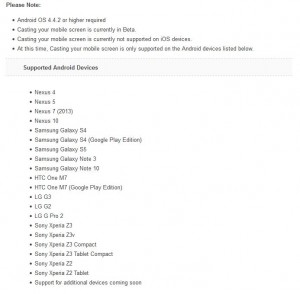 Comments
comments